dr. krishna chakravarty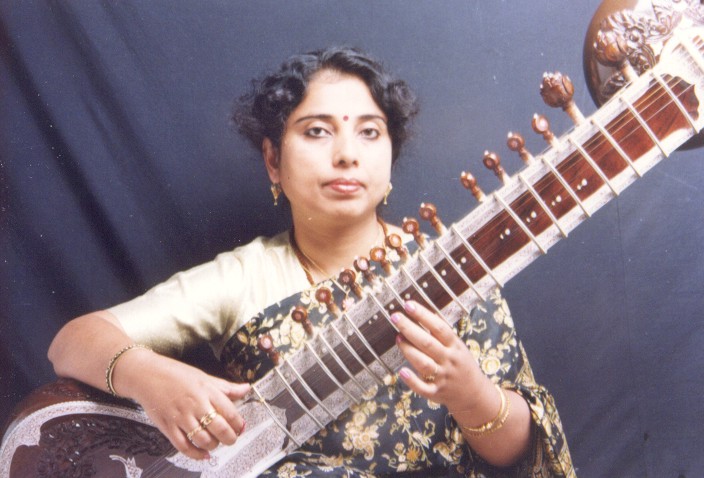 Dr. Krishna Chakravarty studied sitar from a very young age under Professor Ram Chakravarty and later under Pt. Ravi Shankar. Today she is considered to be one of the best sitarists in India.
She has a BA and Doctor of Music from Banaras Hindu University, a Master of Music (gold medallist) from Prayag Sangit Samiti, Allahabad and an MA in World Music from the Wesleyan University, Connecticut, United States. She is currently an associate professor of sitar at the Faculty of Performing Arts, Banaras Hindu University. As a visiting artist she has taught North Indian classical music to graduate and undergraduate students at Wesleyan University, and also conducted seminars and practical classes at the University of Pennsylvania in the United States.
She has given numerous performances in India, Australia, Holland, Austria, Germany, Switzerland, United States, Canada, Sri Lanka, Nepal, Brazil and Argentina. She is now "A-Top" grade performer for All India Radio and Indian Television. Circular Dance (13133-2) is her second release in the United States, following her debut album Ananda on Fortuna Records (17046-2). She is also one of the premiere artists on Dancing to the Flute (13135) featuring Indian music. That recording was commissioned by The Art Gallery of New South Wales in Sydney, Australia, for a 1997 exhibition, Dancing to the Flute, on music and dance in Indian art commemorating the 50th anniversary of Indian independence.
Many of the top tabla players have accompanied her including such masters as Pt. Shamta Prasad, Pt. Kishan Maharaj, Ustad Zakir Hussain, and Shankar Ghosh. She was the 1989 recipient of Honorary Fellowship of the Alexander Humboldt Foundation.