monks of the dip tse chok ling monastery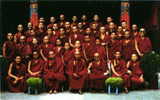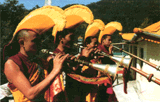 It was originally situated in Tibet, a few kilometers south of Lhasa and the Potala Palace, the residence of H.H. the Dalai Lama. It was built in the 18th century by the Most Venerable Yongzin Yeshi Gyaltsen, tutor of His Holiness the 8th Dalai Lama. Yongzin Yeshi Gyaltsen, previously founded another monastery in Kyidong, west Tibet, called Samten Ling. The monastery had a very close relationship with a common lineage, that continued until 1959, when Tibet was "Liberated" by the Chinese Red Army. Along with over 6000 other monasteries and temples, Dip-Tse-Chok-Ling was ravaged and demolished to near ruins.
In 1992 the people of Dip began work on the reconstruction of Dip-Tse-Chok-Ling Monastery. Local volunteers, including the remaining monks, under the direction of Ven Tenzin Gelek Rinpoche, the 6th reincarnation of YYG and the late Lama Tashi Gyaltsen, made a request for assistance from Dip-Tse-Chok-Ling Monastery-in-exile, in Dharamsala. The present director of the monastery-in-exile, Thupten Nyendak (Pema Lama) went to Tibet bringing with him five life-size statues from India, as well as donations for the reconstruction of the original monastery. In September of 1992 the monstery was twenty-five percent complete and was reopened. Funds are being raised for the completion of the monastery. There was no assistance from the local Chinese government in these efforts.
Presently the monastery has twenty five monks, including five monks from the original Dip-Tse-Chok-Ling Monastery who serve as teachers to the other young monks.
The founder of the present monastery, Late Lama Tashi Gyaltsen, was ordained and educated at Samten Ling and later became an active member there. He also spent several years at Dip-Tse-Chok-Ling and became very dedicated to both monasteries. Having narrowly escaped the Chinese Invasion, Late Lama Tashi Gyaltsen settled in Boudhnath (Nepal) from 1959 to 1975 with Samten Ling monks who were taking care of the Managing Director of their new monastery.
In 1976 he came, along with his first student-in-exile, Thupten Nyandak (Pema Lama) to Mcloed Ganj, Dharamsala, with the wish to refound Dip-Tse-Chok-Ling Monastery. This little town in Northern India is the sear of His Holiness the 14th Dalai Lama and of the Tibetan Government-in-exile.
The project started with a nucleus of three novice monks, later joined by a few more, in a rented ramshackle wooden hut. However, due to frequent rental problems and complications with the landowner, Late Tashi Gyaltsen cherished the idea of buying a piece of land and establishing an independent monastery.
A very beautiful and quiet site among the trees, 300 metres below Mcloed Ganj, was bought in 1984 and hence the present monastery was born. Construction was started in 1984 and it was completed in 1986, thanks to the generous assistance of the Association of Dip-Tse-Chok-Ling, Switzerland and the Association of Freiburg, Germany, along with many other individual donors from Europe and the West. We built a two storey temple. On the ground floor is the main temple. On the second floor is the Arya Tara Temple, the procector temple room and a private room for His Holiness. Late Lama Tashi Gyaltsen requested H.H. the Dalai Lama to inaugurate the temple. On 7th March 1987 the ceremony took place.
Daily Timetable of the Class
The monks begin their day at 6.00 a.m. with chanting prayers and Puja. Tibetan language, Buddhist Philosophy, debate and English Language School hours are from 6.30 a.m. to 5.00 p.m. Prayers, recitation of religious texts, and debate sessions continue until evening 10.00 p.m. The monks also receive annual teachings from His Holiness the Dalai Lama and occasional teachings from other eminent Lamas.
Since 1980 we have been actively involved in seeking sponsors for many Tibetan children, especially for orphans and the children of families who need financial assistance. We also raise funds to assist our monks and other monks and nuns in their education and to pay for health care and other basic needs. We are involved in helping Tibetan children by providing clothing and school supplies, as well as providing assistance for the poor and elderly.
Future Aims:
In Tibet we have several projects including:

Reconstructions of the remaining seventy five percent of the monastery
Self support services etc. providing health care, housing, food and clothing for the monks
Provision of transportation mini bus between Lhasa and Dip-Tse-Chok-Ling monastery for local visitors
Construction of a small canteen to provide food for visitors and to serve as small source of income for the monastery
Building a health centre for the local village of 900 inhabitants
Improvements to the local primary school including: building new class rooms, hiring more teachers and providing clothing and supplies for the children.
Our monastery would not be what it is today without the financial support of our many western friends and the Tibetan people and som room rent. Most of all, Dip-Tse-Chok-Ling owes its present existence to the generousity and dedication of our friends in Switzerland and Germany, as well as our many other friends from the West and Europe.
We still need help. The monastery requires approximately US$ 100 per day for the food and general maintenance of its members (50 monks, teachers and staff). This includes the cost of electricity, firewood, and other expenses. You can help us by sponsoring a monk ($240 per year) or by becoming a Dip-Tse-Chok-Ling-Friend ($50 per year).
Contribution can be sent by bank transfer, bank draft or international postal money order. Payments can be made to:

Dip-Tse-Chok-Ling Tibetan Monastery
Bank Account:
State Bank of India
Account No. : E.C.M. 871
Dharamsala Branch
(HP) INDIA
Please inform us in writing of your donation so that we can respond immediately. Your support is sincerely appreciated since it helps us to develop and maintain our monastery and preserve our cultural heritage.
We always welcome visitors. For guests who wish to spend some time here, there is limited accommodation and retreat hours available in this beautiful and peaceful settting. For inquiries or further information, please write to us.
We offer prayers for the benefit of all sentient beings towards an enlightened mind.
Director Thupten Nyandek (Pema Lama) and all the monks thank you.
Dip-Tse-Chok-Ling Monastery School
Camel Track Road, PO McLeod Ganj-176219, Dharamsala, H.P., India
Tel. 91-01892-221726