david hudson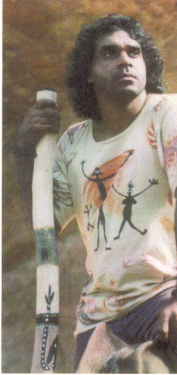 Stammesmitglied der Tjapukai in Nord-Queensland, begründete die Tjapukai Dance Company, die seit über einem Jahrzehnt zu den Touristen-Attraktionen Australiens zählt. David wird nicht müde, die Didjeridu und die Kultur seines Volkes zu erläutern. Als Musiker verbindet er traditionelle und eigene Spieltechniken. Die Zusammenarbeit mit seinem Produzenten Steve Roach führte zu einer bisher einmaligen musikalischen Erforschung und Vermittlung der vielbeschworenen "Traumzeit". Hudsons Didjeridu lieferte Roachs Tribal-Ambient-Scheiben Dreamtime Return und Australia: Sound of the Earth (s. Roach/Elektronische Musik) den Schlüssel zu einer anderen Welt.
Australian Aboriginal artist David Hudson is a world-renowned pioneer in the art of the didjeridu. A member of the Tjapukai tribe in Kuranda, North Queensland, he mastered the didjeridu and interpretive dances of his tribe at an early age. Armed with a profound understanding of the didjeridu, he possesses an exceptional talent of spontaneously creating/ performing multi-leveled compositions, as evidenced in his first solo recording, the highly acclaimed Woolunda: Ten Solos for Didgeridoo (13071-2) produced by Steve Roach. It is regarded by many experts as a ground–breaking experiment in the creative possibilities of the didjeridu.
Known primarily for his traditional styles and use of the traditional technique of circular breathing, Hudson is credited for taking the art form to a new level through an innovative combination of extended techniques and modern compositional ideas. So much so, his inventive use of voice, space and explosive blasts of sound have more in common with 20th century avant–garde music than ancestral Aboriginal music.
Hudson is co-founder of the Tjapukai Dance Company which, over the past decade, have become one of Australia's premier Aboriginal tourist attractions. Based outside of Cairns the group started offering short performances, expanded into a purpose-built theater and currently have developed Australia's first Aboriginal theme park.