the project
The Best of Mark-Almond
is a compelling retrospective of the band's most inventive and best-loved songs. We all know the distinctive sound this innovative English band was exploring in the late 60s and early 70s, carving out a niche in the unchartered territory between rock and jazz. Although the saxophone was rarely heard in pop music at that time, the smoky, melancholy tones of reedman Johnny Almond were an integral part of the group's sound. Characterized by an innovative blend of blues licks, jazz riffs, latin beats, and rock sensibilities, and in counterpoint to the screaming guitar licks of his contemporaries, Jon Mark, the composer and band leader, lingered over subtle, melodic lines with a unique sense of warmth and intimacy. The resulting sound captured the attention of respected jazzman, Dannie Richmond. The American drummer took a leave of absence from a steady gig with Charles Mingus to tour and record with Mark-Almond.
On The Best of Mark-Almond, the group's early explorations of latin/jazz/rock fusion are balanced by pensive, spatially oriented ballads. The City, one of Mark-Almond's earliest hits, is still a classic of smoldering intensity. The Sausalito Bay Suite, ventures into imaginative montages of sound and emotion, while the impressionistic tunes like Tuesday In New York, and One Way Sunday, softly whisper lyrics with an innate sense of drama and a deft twist of phrase. The elements add up to a release that is a pleasure to listen to, at the same time illustrating Mark-Almond's status as one of the most innovative bands in the history of jazz-rock fusion.
the artists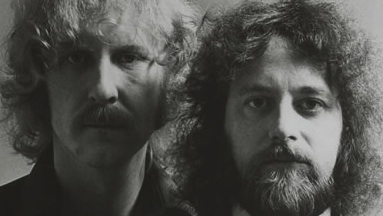 Jon Mark and Johnny Almond were top London session musicians in the 60s, at a time when the British rock explosion was at full force. They played with everyone from The Rolling Stones to Marianne Faithfull. Mark even owned a production company with guitarist Jimmy Page, who later started the seminal rock group, Led Zeppelin. Mark and Almond met in the late 60s, on a two year tour with John Mayall, the acknowledged father of the white blues. Both recorded on Mayall's classic album, The Turning Point. On tour, they discovered a strong musical affinity which ultimately resulted in Mark-Almond. Through the 70s the band toured the United States and Europe, and made recordings for a variety of labels. Over time, Mark-Almond consistently forged new ground and retained an uncanny sense of identity due to the strong musical vision of its leaders.
tracklist
| | | |
| --- | --- | --- |
| 1 | Tuesday In New York | 4'53" |
| 2 | The Ghetto | 6'11" |
| 3 | The City | 10'27" |
| 4 | Tramp And The Young Girl | 5'00" |
| 5 | The Sausalito Bay Suite | 21'45" |
| 6 | One Way Sunday | 5'35" |
| 7 | Monday Bluesong | 4'16" |
| 8 | What Am I Living For | 5'09" |
| 9 | Lonely Girl | 5'04" |
| 10 | Home To You | 7'00" |
| | Total Time: | 76'09" |